MIDLAND COUNTIES ATHLETIC ASSOCIATION
ALEXANDER STADIUM
WALSALL ROAD
PERRY BARR
BIRMINGHAM
B42 2LR

PHONE: 0121 344 4201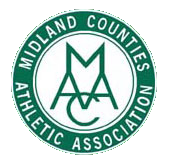 MIDLAND OFFICIALS PAPERWORK AND LATEST NEWS:
MCAA Track and Field Advisory Group
Field: Andrew Brown, Neville Corey, Derek Redfern

Starters/Marksmen: Stuart Paul, John Pickles, Margaret Werrett

Timekeepers: Margaret Afford, Adie Pottinger, John Vickers

Track: Stewart Barnes, Noel Makakly, Jane Pidgeon

Referee's/Chief's Meeting Report Form
Time keepers analysis form (PDF)
Record of Technical Duties Form (Excel)
Allocation of Duties for Track Judging (PDF)
Endurance official's log book record of experience (Word)
Endurance official's log book
How to renew DBS details







Midland Officials expenses - an explanation of the payment system here
N.B. Forms above (excepting those marked PDF) are in Word format.
Midland Counties Athletic Association officials Appointments
2017 Summer Appointments as of the 2nd August
2017 Summer Outdoor Officials Availability Forms:

Track & Field Officials
Notts are holding Officials Courses as follows: -
Health and Safety – Wed 3rd May, Notts AC 7 – 9 pm
Course No. MO0307HS
All candidates are obliged to attend this course.
Track - Thur 4th May: Notts AC 7 – 10 pm Course No. MO0307TR
Timekeeping - Thur 4th May: Notts AC 7 – 10 pm Course No MO0307TK
Field - Sat 6th May: Notts AC 10 – 3pm Course No MO0307FD
Click HERE for an application form which candidates need to complete and return to the address given with £30 for both H & S and chosen course.
The closing date for applications is 24th April.
Gwen Hines
Notts CofSec